2020 K 1600 GT
Base model $24,045 MSRP

MSRP excludes destination & handling fee of $645, tax, title, license and registration.

European model shown.
The BMW K 1600 GT
Wanderlust on two wheels
This is what the world looks like from the saddle of the K 1600 GT: on the move, gaining impressions, experiencing new things while on a relaxed, yet dynamic and pleasing ride. Its 6-cylinder in-line engine is already considered an icon with its power delivery and running smoothness, and now it offers you even more dynamics and touring comfort. Thanks to wind and weather protection equipment, this bike is always ready for long distance touring when you are. When riding the K 1600 GT, you leave quite an impression regardless of whether you are at a standstill or on the move. 
The Design of the K 1600 GT.
Choose your style.
Four different versions support both the dynamic gene as well as the comfortable side of the K 1600 GT. This way, proportions and emotions are expressed perfectly.
Dynamics for the eye as well.
The dynamics and comfort characteristics of the K 1600 GT are also reflected in the design: The Duolever front suspension, the xenon headlight with optional Adaptive Headlights, the powerful 6-cylinder engine and the frame make this high quality motorcycle a true standout. The front and side views are athletic and sharp to ensure a sporty, streamlined appearance. The 6-in-2 muffler reflects the potential of the 6-cylinder engine both visually and acoustically.
The remarkable appearance of the K 1600 GT is supported by the high-quality paint finish: from exclusively discreet to sportily dynamic. You decide what suits you.
+ Read more
6-cylinder in-line engine.
129
lb-ft of torque at 5,250 rpm
454
lbs. payload (with standard equipment)
Liquid cooled, 4-stroke in-line 6-cylinder engine, four valves per cylinder, double overhead camshafts, dry sump lubrication
First-class six-pack.
First-class six-pack.
The legendary in-line six-cylinder engine turns every ride into pure enjoyment. Thanks to extremely smooth acceleration and power delivery, its dynamic performance is unmatched. 160 hp and 129 lb-ft of torque provide effortless thrust. The smallest movement of the throttle results in an immediate response while providing superior control and handling. 
+ Read more
Experience the sound of the K 1600 GT.
The highlights of the K 1600 GT.
Striking Xenon headlights.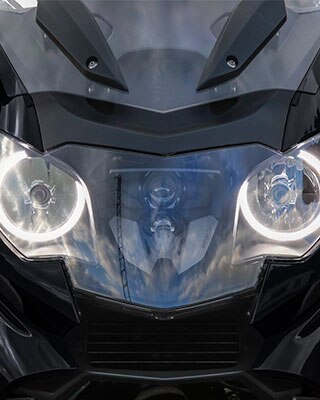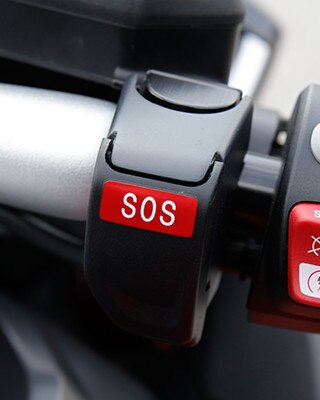 Innovative, easy to read cockpit.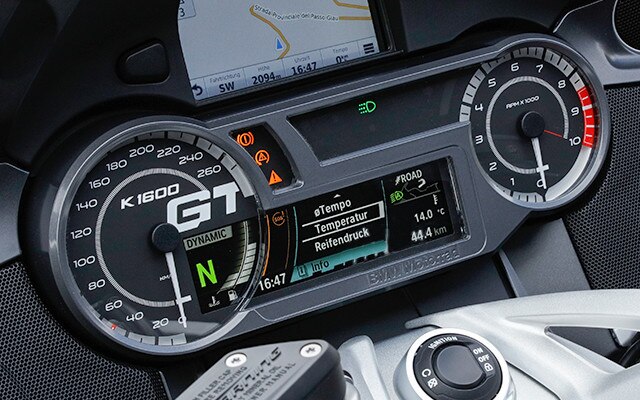 Electrically adjustable windshield.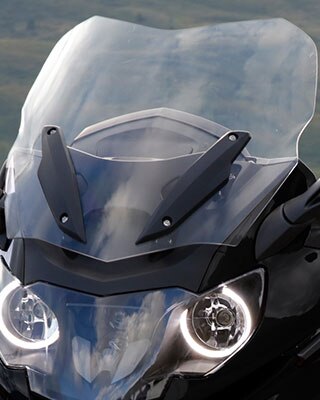 A great many visual details.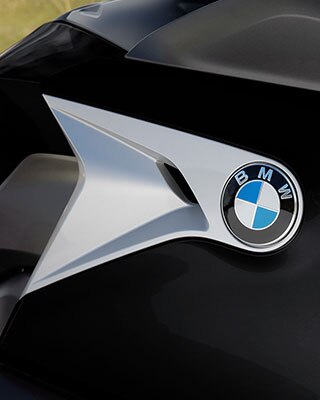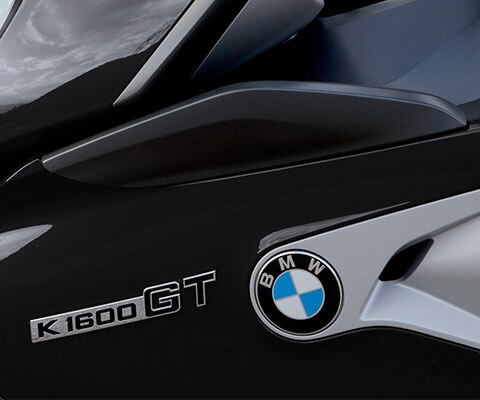 Six-cylinder in-line engine.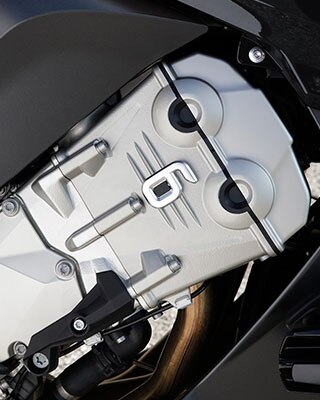 Watertight storage compartments.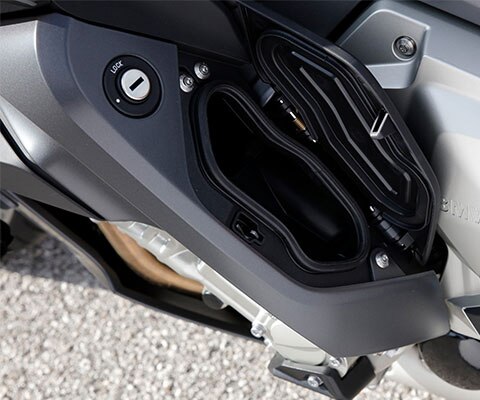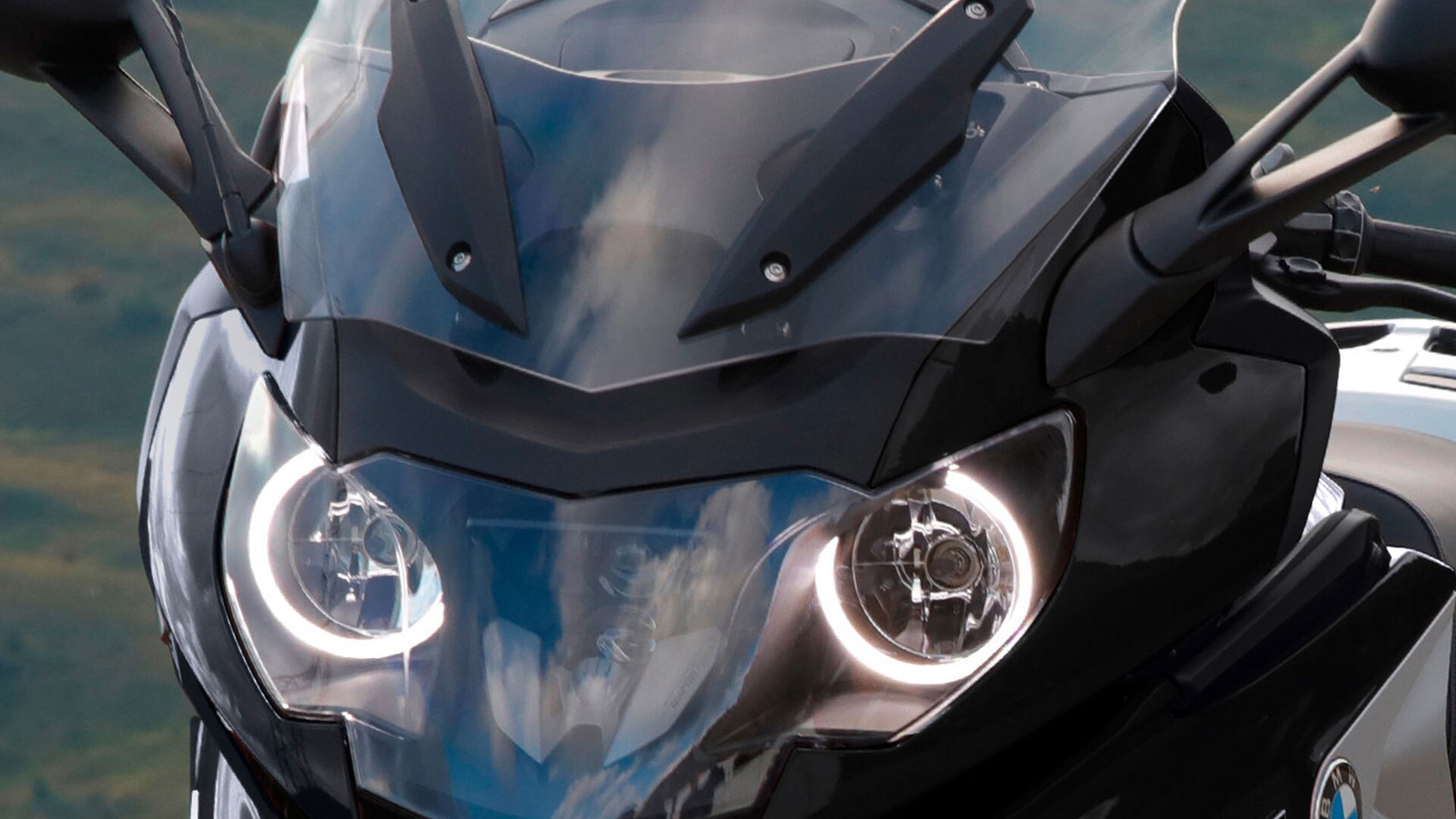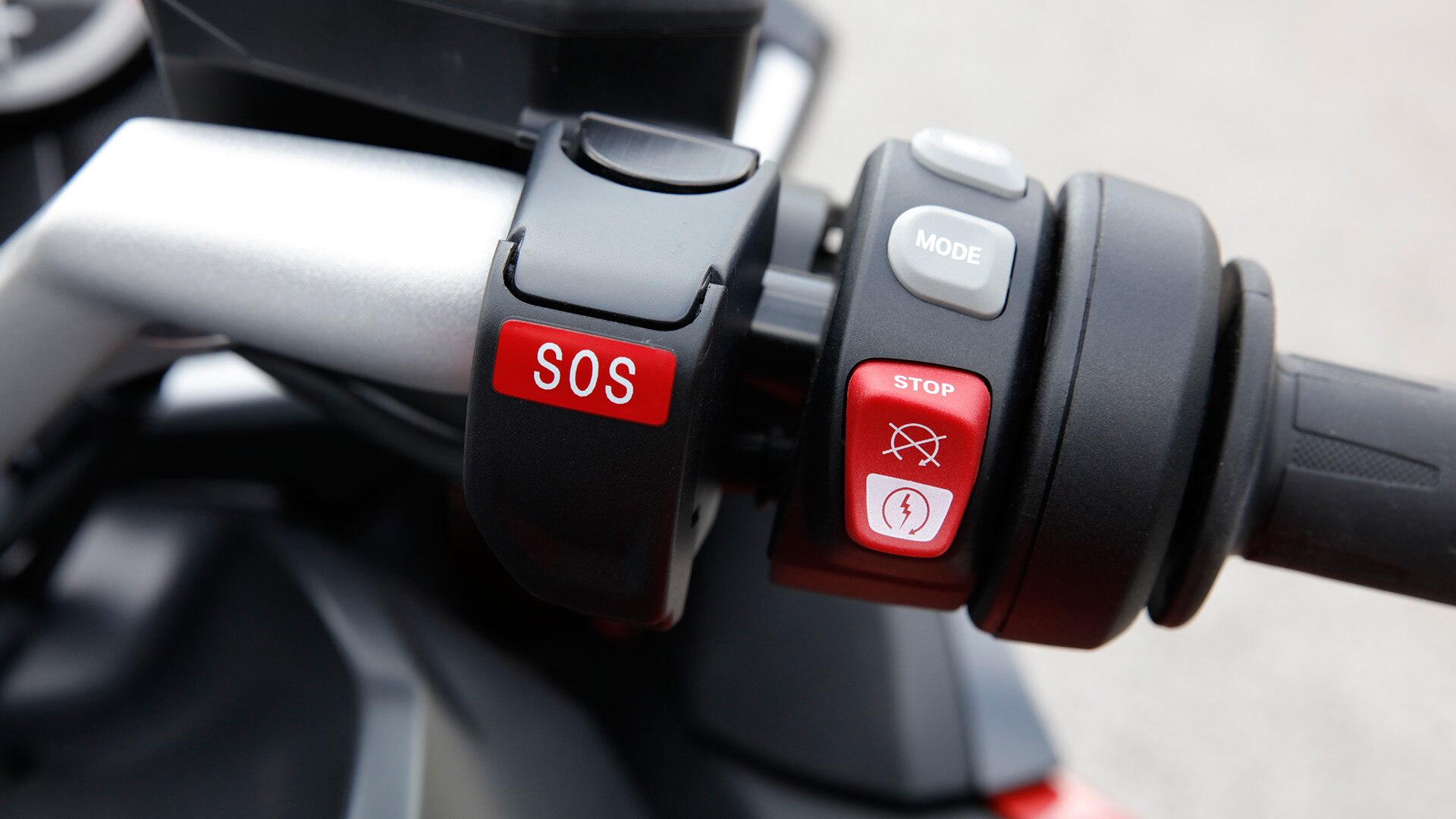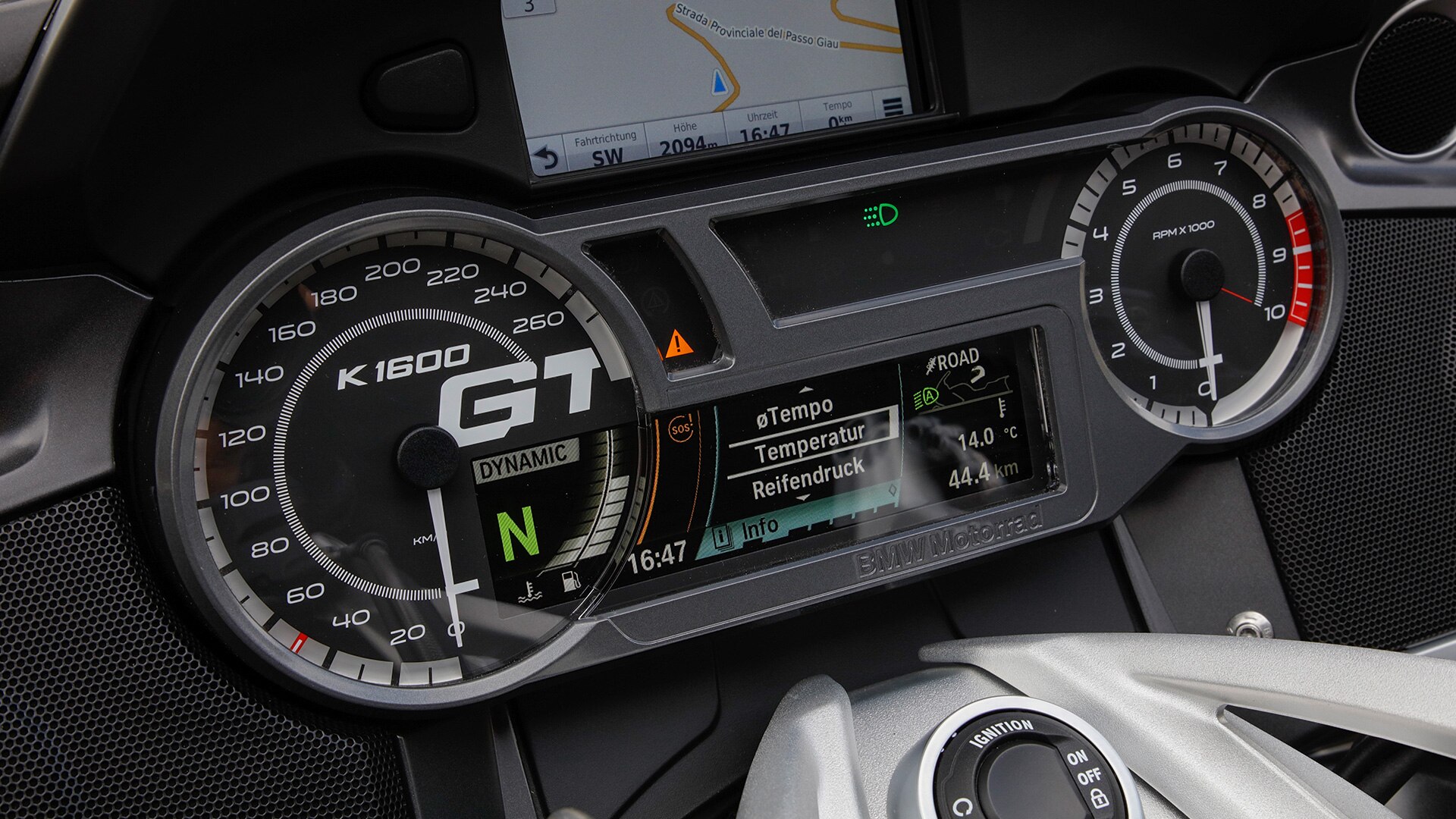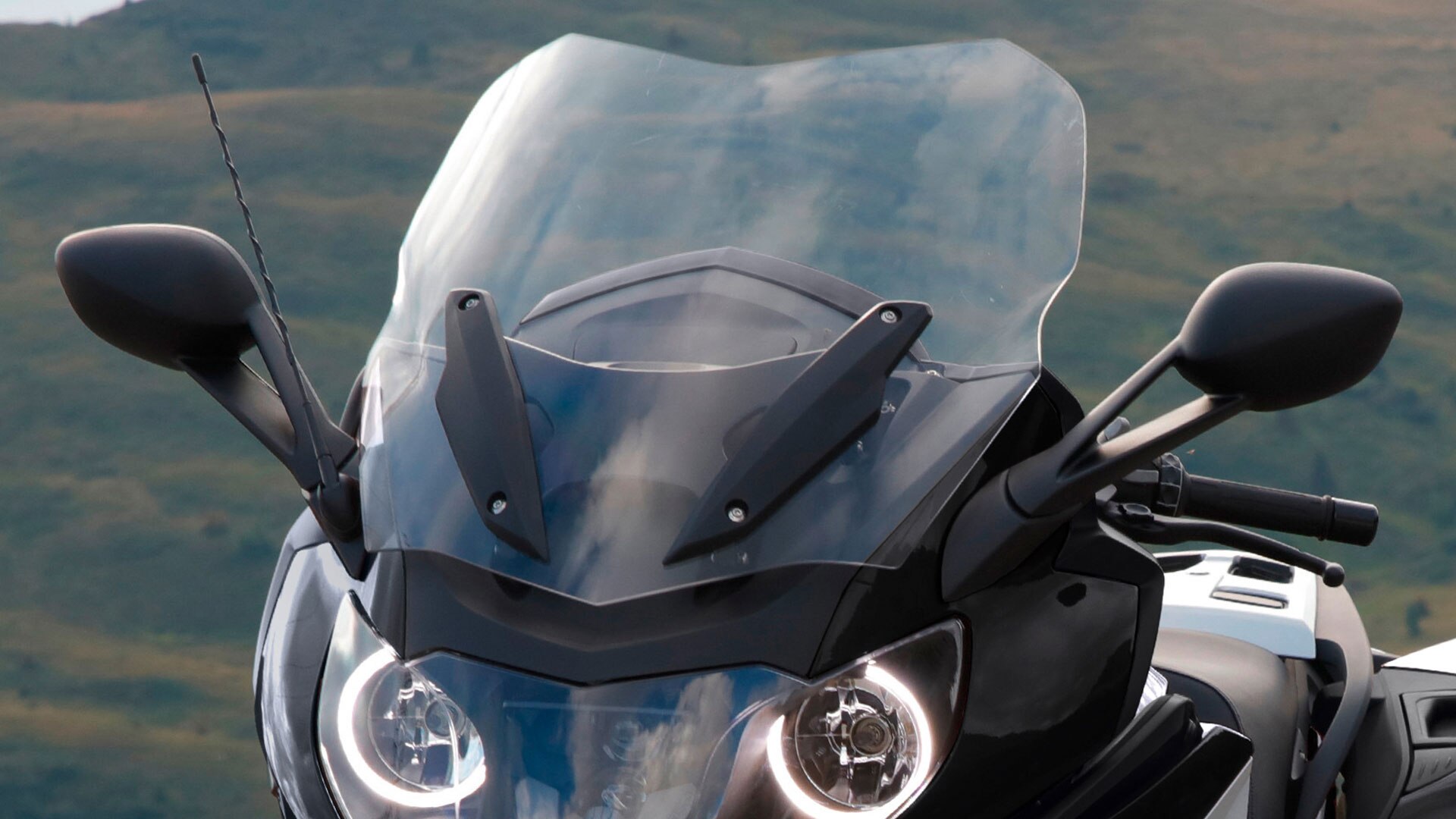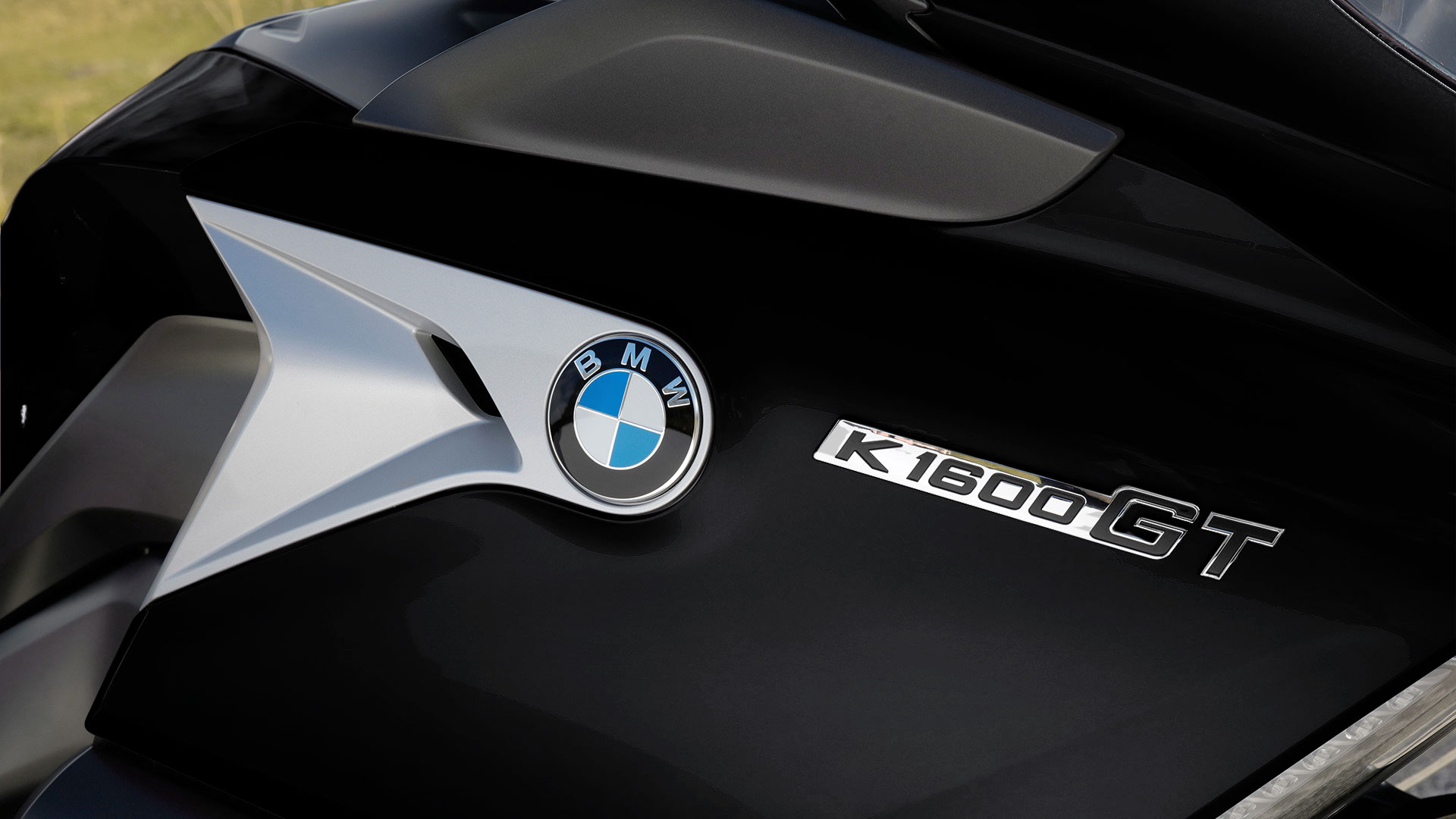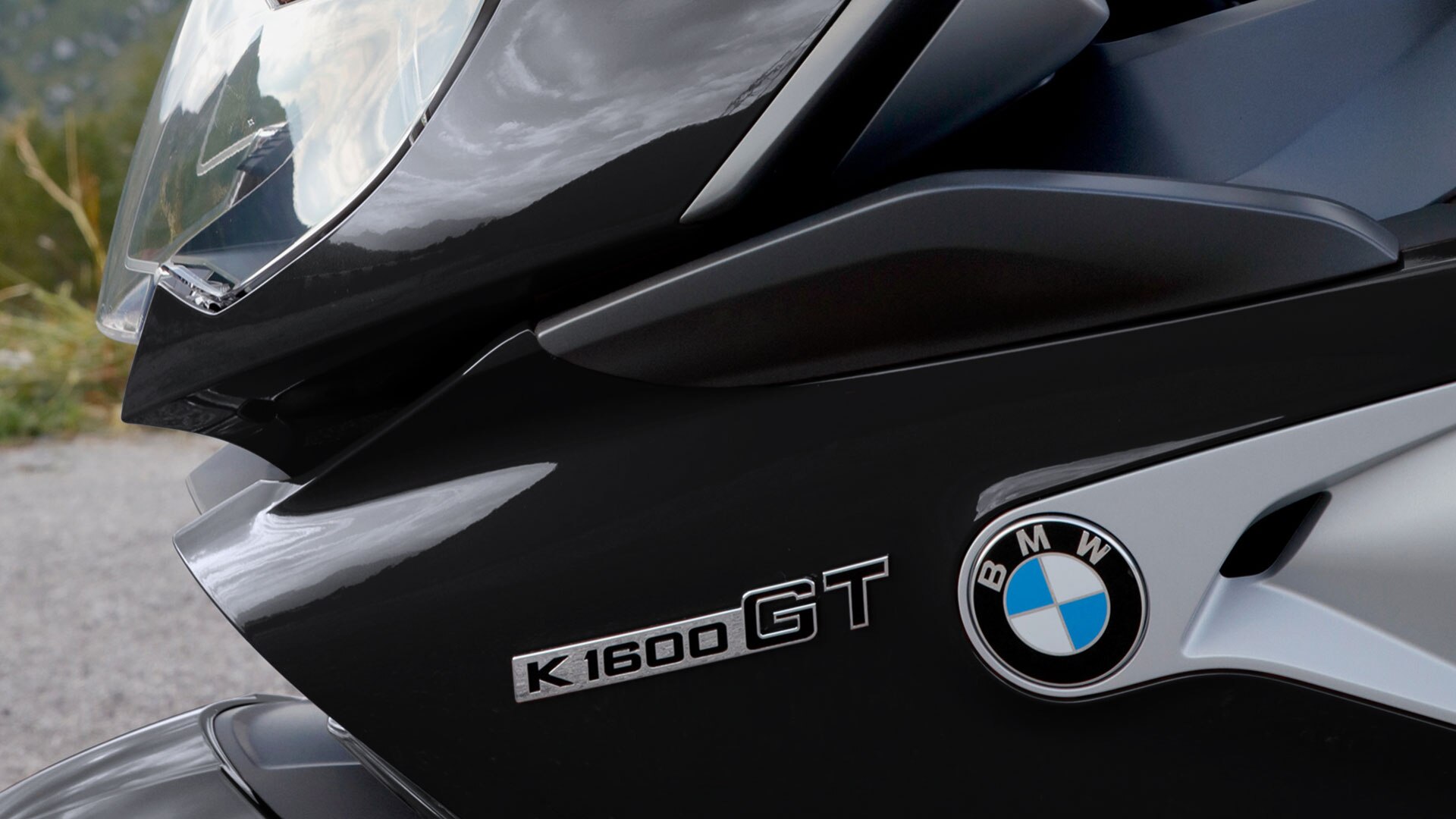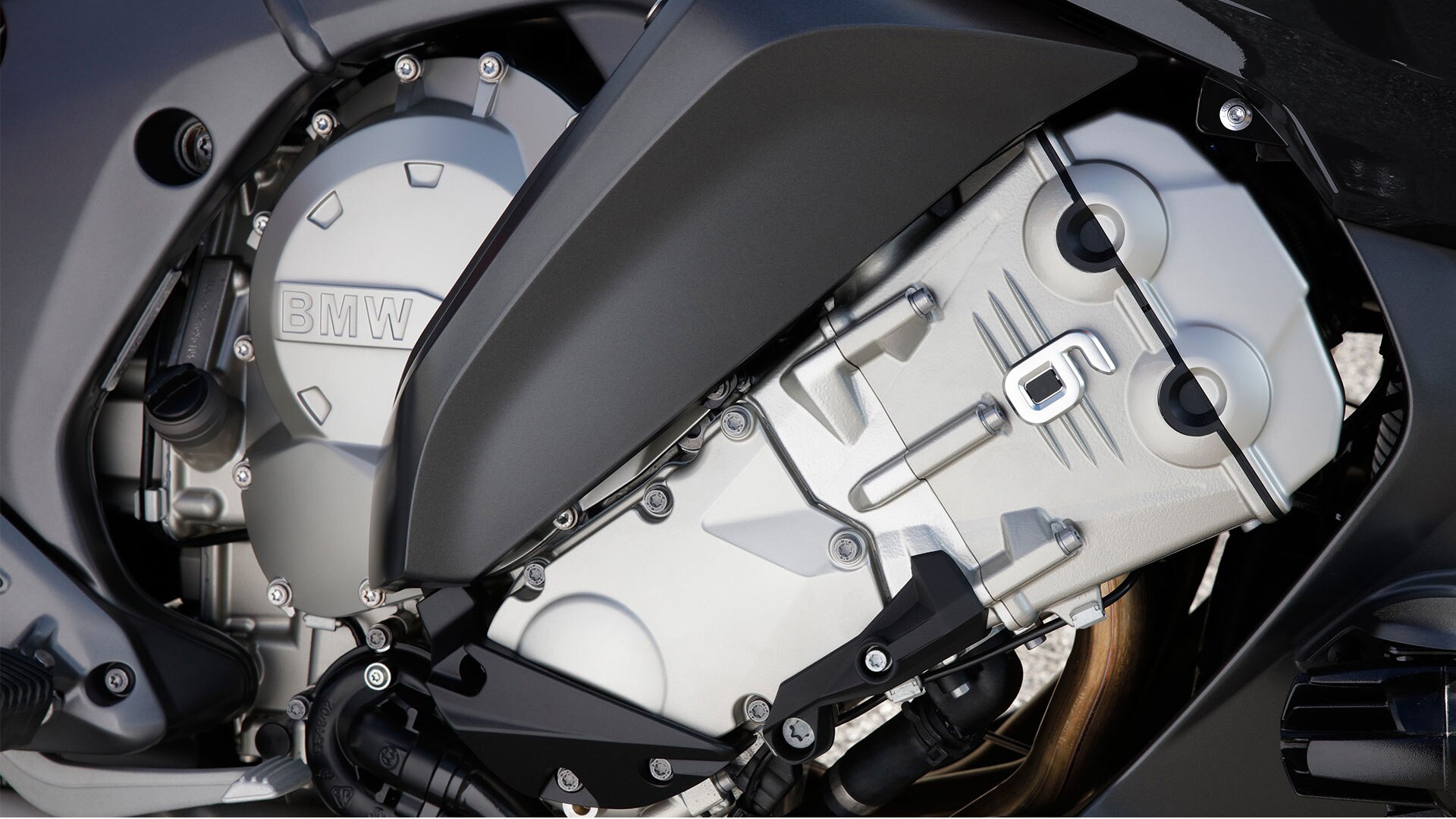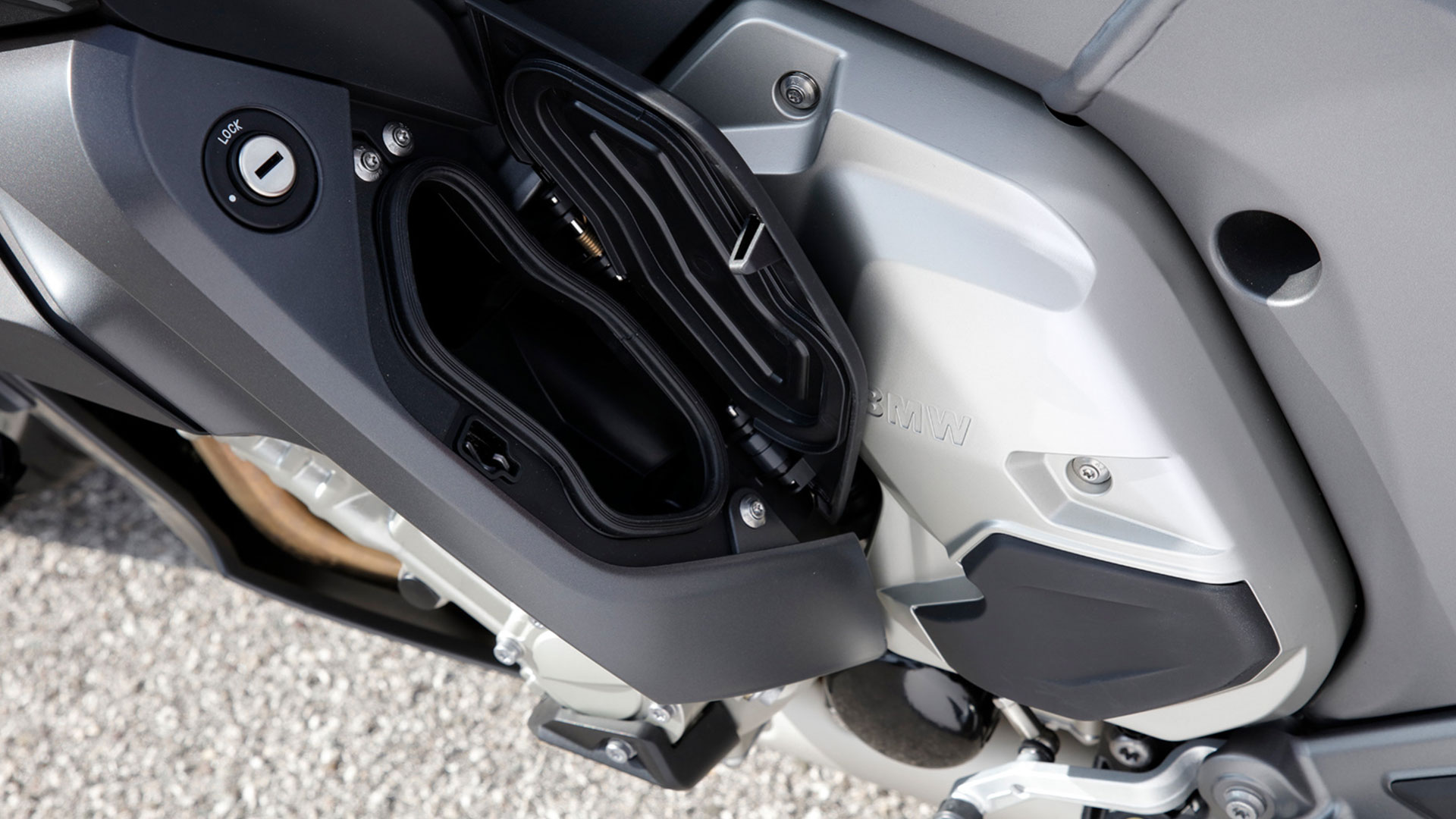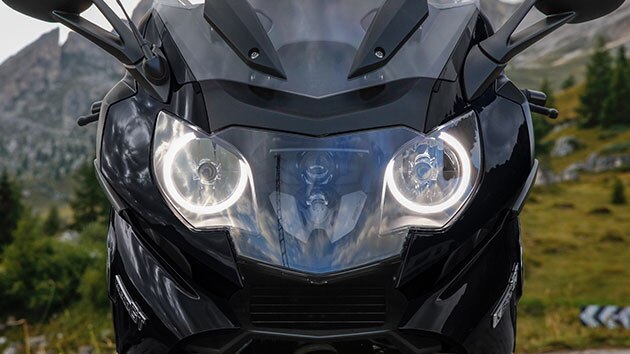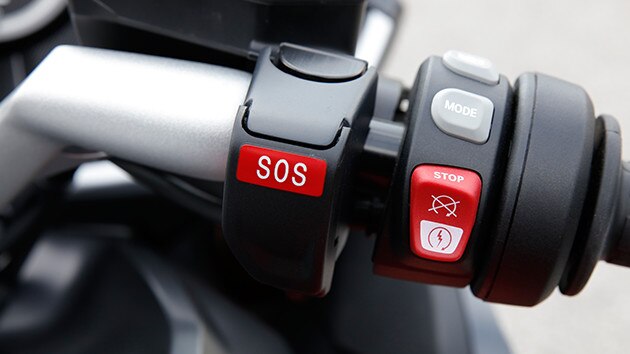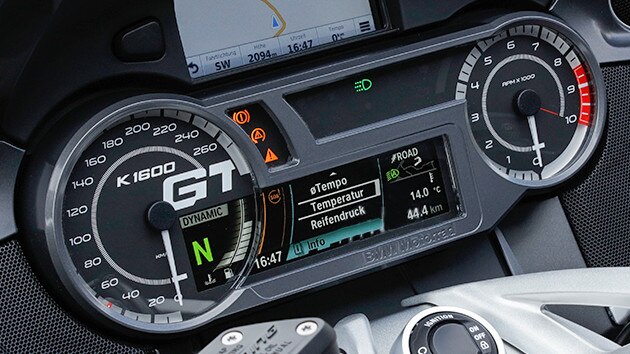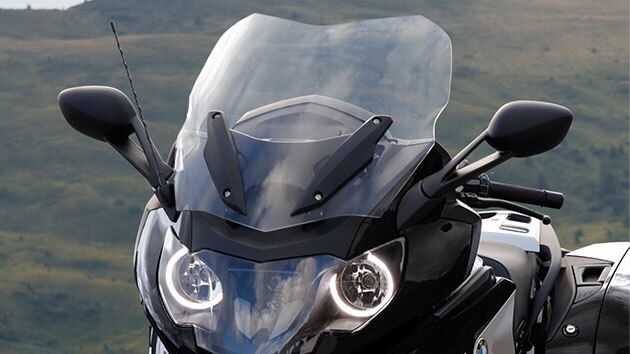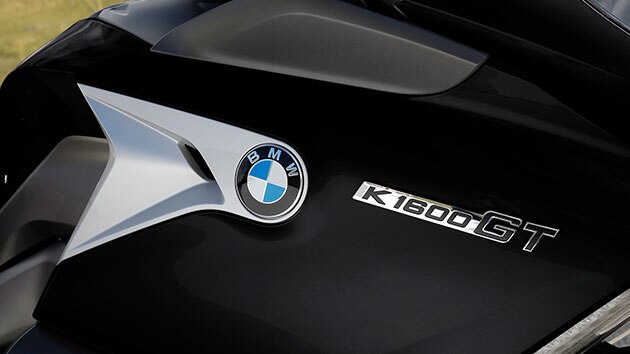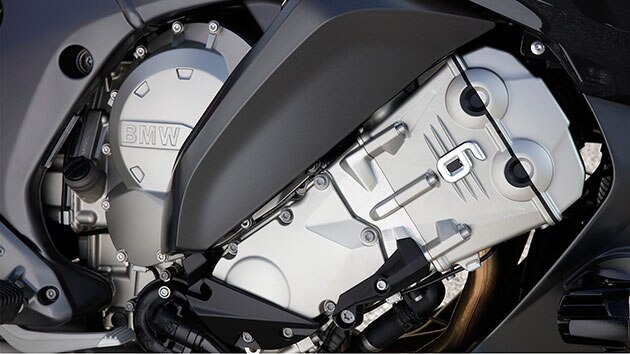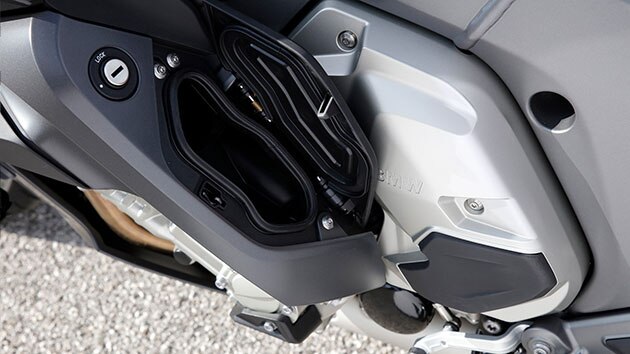 Extensive standard equipment.
Standard high-performance brake pads with ABS Pro.
Extensive standard equipment.
The equipment that comes on the standard K 1600 GT model is of the highest quality, and encompasses a wide range of features to suit the needs of most riders: ABS Pro, which ensures safe braking even when leaning, the innovative xenon headlight and the multi-controller just to name a few, and the newest addition to standard production: the dynamic ESA. The chassis recognizes changes in road conditions and riding style and controls the damping action in milliseconds based on feedback from the lean-angle sensor and control units. In doing so, it ensures the best damper settings in various riding situations. Even when leaning into turns, superior damping comfort and stability is achieved.
+ Read more
Do you want some more?
Keyless Ride for added convenience.
Do you want some more?
Numerous options like the adaptive headlight, keyless ride or central locking at the touch of a button provide an even more comfortable, safe and relaxed ride. Thanks to Reverse Assist, maneuvering out of parking spaces is effortless, even on an incline. The Gear Shift Assist Pro offers dynamic up- and down shifting without the use of the clutch.
+ Read more
Reverse Assist: effortlessly maneuvering and getting out of parking spaces.
Simply reverse.
Steep paths and narrow space conditions at popular look-out points or parking spots are no issue with the convenient torque control assist (TCA). Leaving you with only a smile for parking and maneuvering. Activate the reverse assist by putting the bike into neutral and activating the assist function using the button on the left handlebar. As soon as the R is shown on the display and started by pressing it, you can glide out of your parking space with ease and get going on to your next destination with ample momentum.
Dynamic ESA: unevenness ironed flat.
For the best road contact.
The standard Dynamic ESA once again significantly increases the first-class riding comfort of the K 1600 GTL. It ensures the best traction, safety and the highest level of comfort: dynamic ESA controls the suspension depending on the driving condition and riding maneuvers by automatically adjusting to the detected conditions. In doing so, it ensures significantly improved contact between road and tire, even when in a lean. Enabling riding characteristics which are always stable and an added boost in comfort and safety – especially on long tours.
The standard setting "Road" – takes you comfortably over all unevenness. With the "dynamic" setting, a generally firmer damping action is selected: for sporty dynamic riding.
Cases and storage compartments: more space for your luggage.
Mount and enjoy in a relaxed manner.
With the optional topcase, tank bag and touring cases to complement the generous standard stowage, there are several storing possibilities for everything you want to take with you. Regardless of whether it's on a long journey, a short trip or your daily route through town, the K 1600 GT keeps its promise when it comes to its sporty appearance and high-quality equipment. This is where dynamics and comfort complement each other to ensure pure riding pleasure.
Keyless Ride and Central Locking.
Extraordinary features for increased comfort.
Keyless ride and central locking make your life easier and quickly become companions you won't want to do without.
Thanks to Keyless Ride, the mechanical key becomes superfluous so you no longer have to spend time inconveniently looking for it before you set off. It is sufficient simply to carry your key in your jacket pocket in order to unlock and start up your motorcycle.
The central locking ensures that the contents of the storage compartments and additional cases are protected from thieving fingers when you lock your bike – all this simply by pressing a button on the handlebars. Enabling you to set out on an excursion after dismounting even faster.
Clutchless upshifting and downshifting thanks to Gear Shift Assist Pro.
Shift like in racing.
This is luxury – above all a plus for easy handling: the Gear Shift Assist Pro was originally developed for racing sport. Adapted for the touring sector, it allows you to shift gears without using the clutch in almost any load or rev range. During acceleration, the throttle grip remains open and ensures swift and relaxed shifting. When downshifting with closed throttle grip, the system automatically provides double-declutching and uses this to downshift perfectly.
This ensures that your clutch hand is relieved and remains relaxed even after long tours. In addition, shift time is reduced as compared to a gearshift using the clutch: for even more dynamics and comfort.
3 year warranty
Ride on & on & on. 
Get up to 3-years or 36,000 miles warranty on all new motorcycles. 

BMW Motorrad Option 719.
Bring your character onto the road.
No tinkering, no surprises, no compromises. With BMW Motorrad Option 719, you get a bike with your personal touches and the highest quality standards.
At BMW Motorrad Option 719, you will find particularly high-quality designer optional equipment such as the exclusive Option 719 milled parts set and Option 719 colors or performance enhancing accessories. 
The interplay between long-standing development skills from BMW Motorrad and the interaction of complex production processes connected with tradition-steeped craftsmanship facilitate a level of significance and exclusivity. 
Learn more