2018 K 1600 B
From $19,995

Images shown may include options or equipment available in European markets only.
Ride the 2018 K 1600 B for as low as $300 per month with 3asy Ride Financing.
Learn more about your financing options through this exclusive program.

*3asy Ride is a retail installment sales contract with a balloon payment; financing provided to well-qualified customers financing their purchase of new eligible BMW motorcycles by participating BMW motorcycle dealers and assigned to BMW Financial Services NA, LLC or BMW Bank of North America. The $300 monthly payment is based on $23,545 MSRP + $495 Destination, 48 month contract, 6% APR, 30 days to first payment, $2,355 down payment, and $11,299 balloon due at end of the term. Additional options and accessories are not included and may increase your monthly payment. Down payment, monthly payment, and other credit terms depend upon motorcycle model, state, applicant's creditworthiness, amount financed, and length of contract term. This is not an offer of any particular purchase or financing transaction. Excludes tax, title and registration fees. Actual selling price may vary. Program not offered in NC, ND, NH, PA, & WV. The minimum amount financed for all contracts must exceed $5,000. The total amount financed must be greater than $10,000 in HI and MD. In NJ, the selling price must exceed $10,000. 3asy Ride products may not be used in ME for contracts with a term of less than 48 months. Subject to credit approval. Actual credit terms for an approved client may differ based on applicant's creditworthiness, amount financed, and length of term. Offer based on a non-promotional rate – rates subject to change on a monthly basis-see your BMW Motorrad sales representative for details.

+ Read more
The BMW K 1600 B.
TAKE A RELAXED CRUISE ANYTIME.
If you're hungry for asphalt and for new horizons, then the Bagger is the motorcycle for your journey. With its six cylinders, it delivers impressive power and extraordinary running smoothness. Let the journey begin. You and the bike become one with the road in the Bagger silhouette: the chopped windscreen and the striking rear ensure an unmistakable appearance. Behind its good looks is a great deal of innovative technology and a high level of comfort. So get going with the K 1600 B.
The Design of the K 1600 B
Unmistakably Bagger. Unmistakably different.
This bagger is made for gliding along. Brimming with presence, the sloping line of the silhouette makes the K 1600 B low and streamlined. The Black Storm Metallic color, combined with the various black tones, gives the Bagger its shape and makes it appear imposing and confident at the same time. The chopped windscreen and the striking rear section with LED indicators and brake lights integrated into the cases define the style. The black 6-cylinder completes the strong character and overall image. And with the standard tubular handlebars, the Bagger can be easily steered towards the horizon.

+ Read more
6-cylinder in-line engine
129
lb-ft max. torque at 5,250 rpm
160
hp (118 kW) at 7,750 rpm
Liquid cooled, 4-stroke in-line 6-cylinder engine, four valves per cylinder, double overhead camshafts, dry sump lubrication
No distance is too far.
No distance is too far.
The 1600 6-cylinder in-line engine ensures the desired dynamics with smooth power delivery that is unmatched. Its maximum torque of 129 lb-ft (175 Nm) and 160 hp (118 kW) develop an incomparable and effortless thrust. At 1500 rpm, 70% of torque is already achieved. This means even the smallest movement of your wrist results in impressive acceleration. After arriving at your destination, the Reverse Assist option ensures effortless maneuvering. By choosing Keyless Ride you add another technical highlight that perfectly rounds out the overall package.

+ Read more
EXPERIENCE THE SOUND OF THE K 1600 B
The Highlights of the K 1600 B
Six-cylinder in-line engine.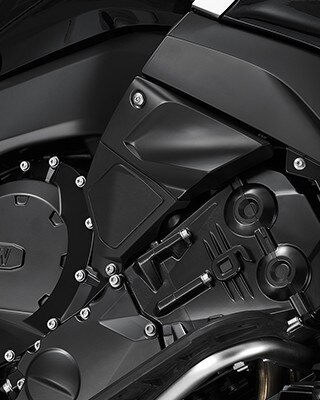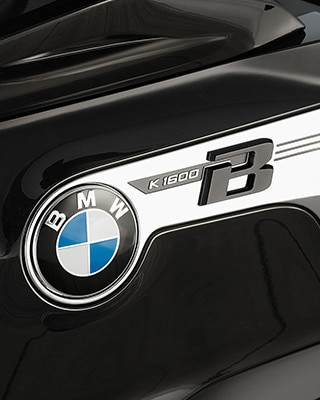 LED indicators and brake lights integrated into the cases.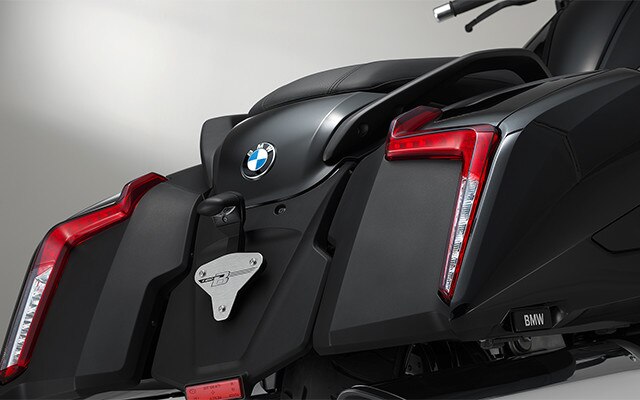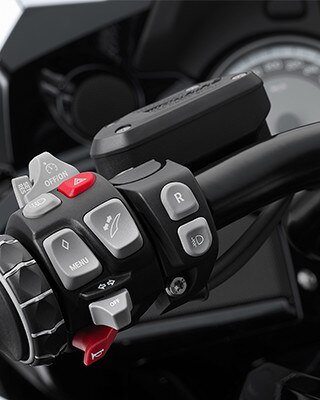 Low seat for more comfort.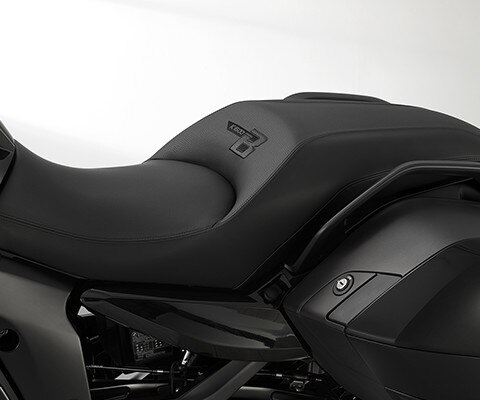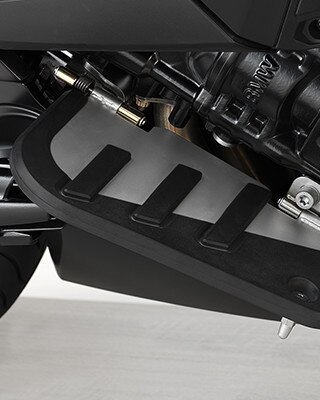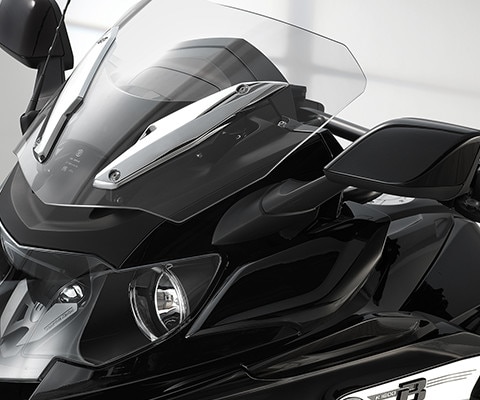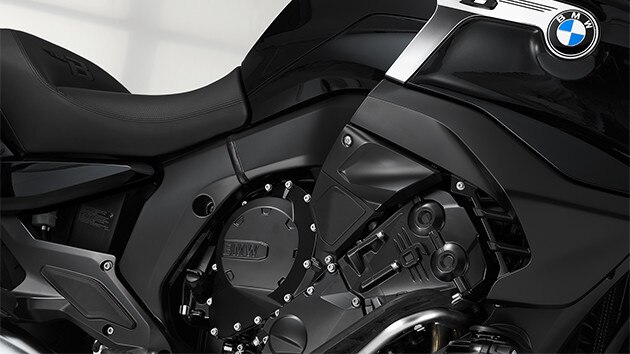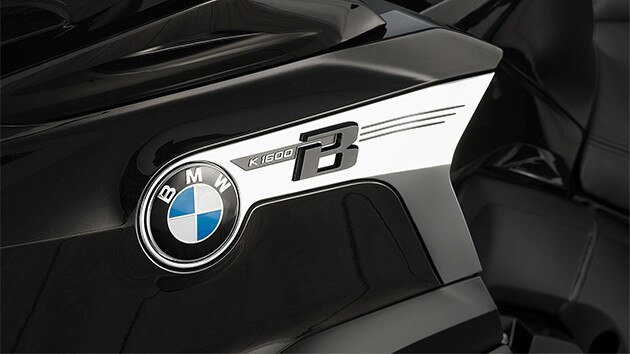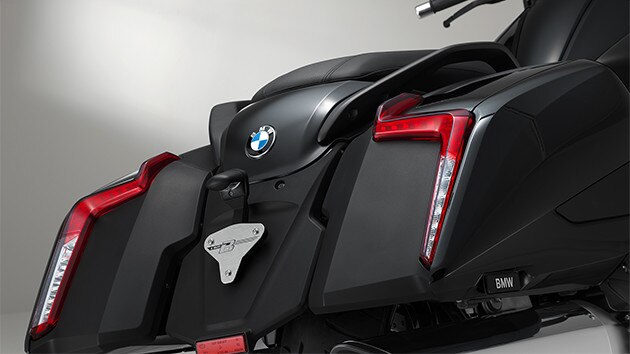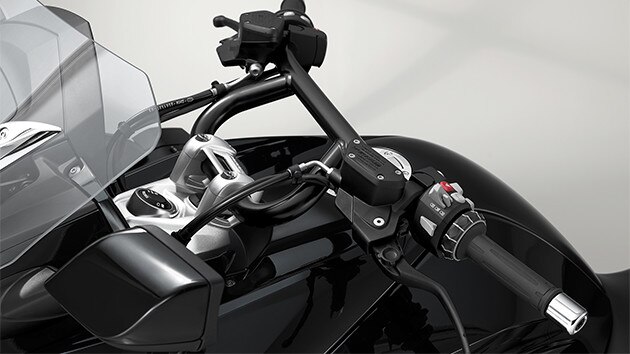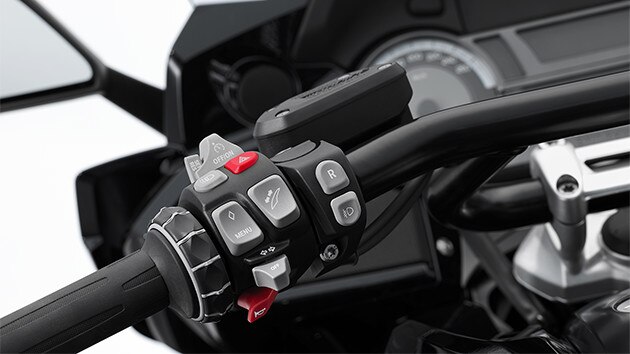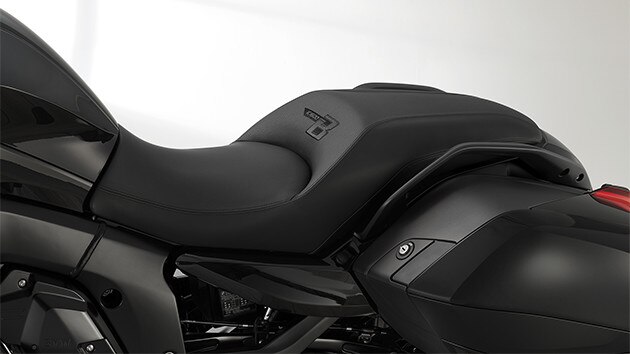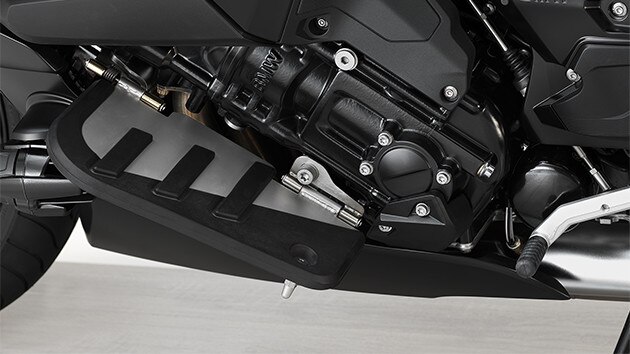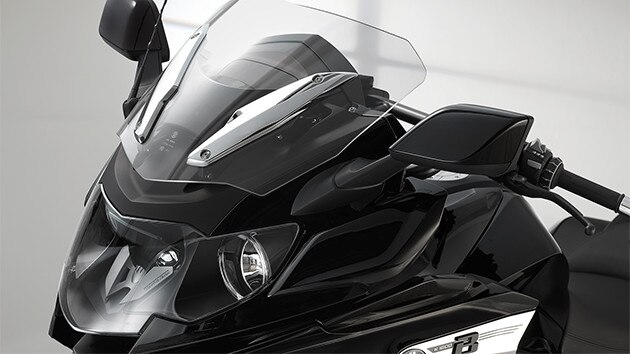 Endless riding pleasure.
Endless riding pleasure.
The standard dynamic ESA (Electronic Suspension Adjustment) provides optimum handling and riding dynamics. In addition, the "CRUISE" setting ensures soft damping comfort. The optional floorboards offer a relaxed foot-forward riding position. With additional options like the audio system with Satellite Radio and Bluetooth, Hill Start Control (HSC), Shift Assist Pro, Central Locking/Alarm, and additional storage compartments, you can improve your riding experience in a fully customized way. With a relaxed posture and an unmistakable presence, you are guaranteed to draw looks from your fellow riders.

+ Read more
Dynamic ESA: unevenness ironed flat.

For the best road contact.

The standard Dynamic ESA significantly increases the first-class riding comfort of the K 1600 B. It ensures the best traction, safety and the highest level of comfort. Dynamic ESA controls the suspension depending on the driving condition and riding maneuvers by automatically adjusting to the detected conditions. In doing so, it ensures significantly improved contact between road and tire, even when in a lean. Enabling riding characteristics which are always stable and an added boost in comfort and safety, especially on long tours.


Reverse assistant: effortlessly maneuvering and getting out of parking spaces.

Simply reverse.

Steep paths and narrow space conditions at popular look-out points or parking spots are no issue with the convenient torque control assist (TCA). Activate the reverse assist by putting the bike into neutral and activating the assist function using the button on the left handlebar. As soon as the R is shown on the display and started by pressing it, you can glide out of your parking space with ease and get going on to your next destination.