2019 F 850 GS Adventure
From $14,295

MSRP excludes destination & handling fee of $495, tax, title, license and registration.

European model shown.
The BMW F 850 GS Adventure.
The world becomes the adventure.
The unknown is exactly what inspires you to get up, get out and go, far, far away, and not just on paved roads. With the BMW F 850 GS Adventure, you'll conquer new terrain, you'll be ready for new adventures and ready to ride – wherever you go. This "travel enduro" is made for explorers. For people who think no destination is too far and no distance too remote. Experience the world with a companion that's so reliable, robust and powerful that it can even keep up with your curiosity. Introducing the new F 850 GS Adventure.
The design of the new F 850 GS Adventure.
Choose your style.
It carries the GS gene with pride, which you can easily see from its styling. The placement of the tank between rider's seat and handlebar ensures the load is perfectly distributed, as well as a slim tail. Distinctive – and as unique as you are. Show off your personal style with your own F 850 GS Adventure!
The "global player" among the globetrotters.
With it, you long for the endless road and the challenge: the F 850 GS Adventure is at home in the world and that's exactly what you can expect. With it, you defy wind and weather, are prepared for the most challenging terrain and experience the adventures of the world with the greatest possible comfort. Among other things, this is ensured by the large, height-adjustable touring windscreen, the standard comfort rider's seat and the large 6.1 gallon fuel tank. For a relaxed ride through wild terrain, your F 850 GS Adventure comes with durable engine protection bars and practical stainless steel luggage rack, in preparation for the aluminum top case. Everything made for your tour through the world with this "global player".
+ Read more
Twin-Cylinder in-line engine.
63
lb-ft of torque (at 6,250 rpm)
6.1
gallons usable tank volume
348
miles max. theoretical range
Liquid cooled, 4-stroke parallel twin engine, four valves per cylinder, double overhead camshafts, dry sump lubrication
The drive: the will to discover.
The drive: the will to discover.
It wants to get out into the world: the powerful, newly developed parallel twin engine with 90 hp gives you and your thirst for discovery the right drive. The new engine concept impresses with powerful sound, stronger performance with 90 hp at 8,000 rpm and smooth performance – with a moderate consumption of 57 mpg (according to WMTC). This Enduro has enough power for any off-road challenge – wherever you want to take it.
+ Read more
EXPERIENCE THE SOUND OF THE F 850 GS ADVENTURE.
Highlights of the F 850 GS Adventure.
21-inch-front-wheel and cross-spoked rims.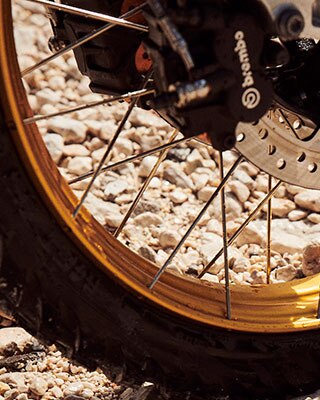 Touring windscreen including adjuster.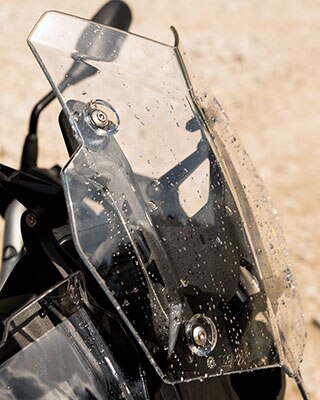 Comfort seat as a standard feature.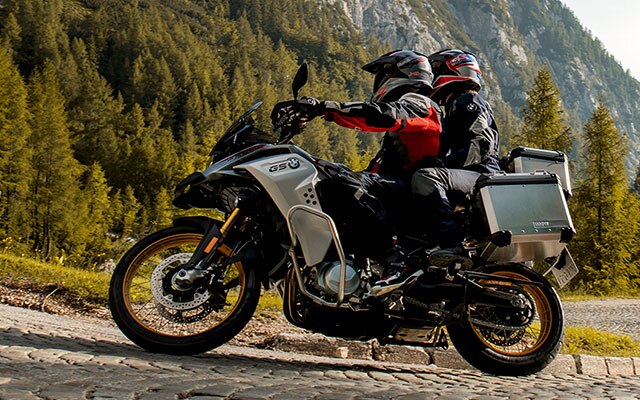 Increased range thanks to 6.1 gallon tank.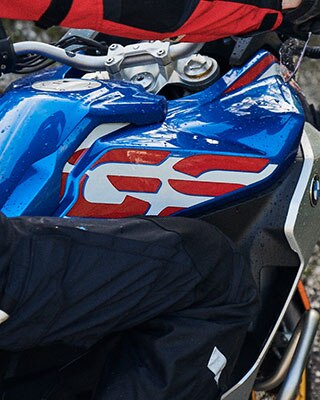 Engine guard and engine protection bars as standard features.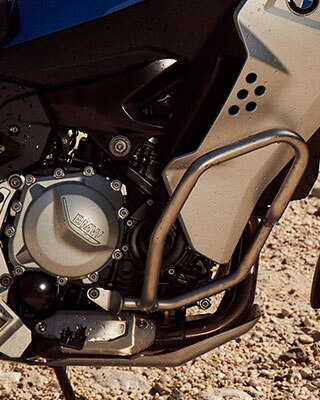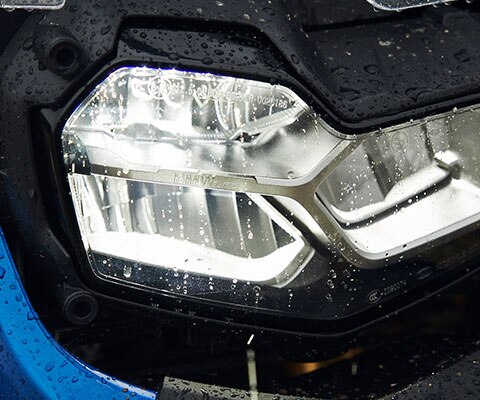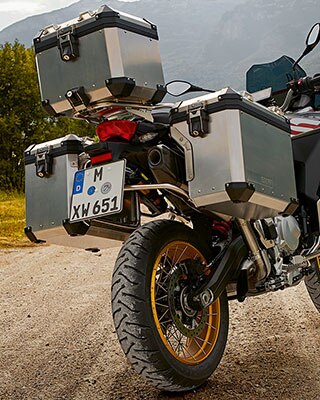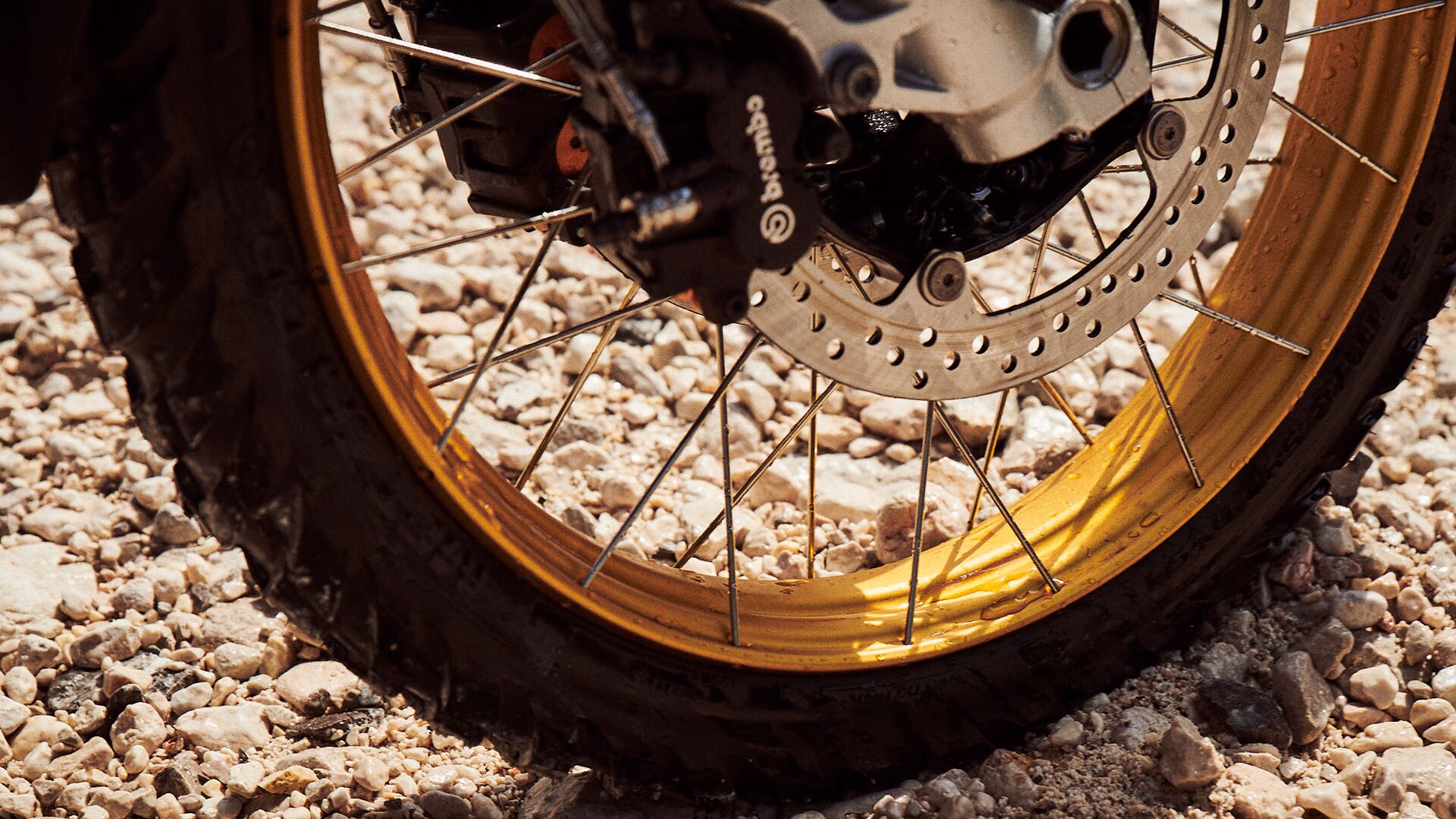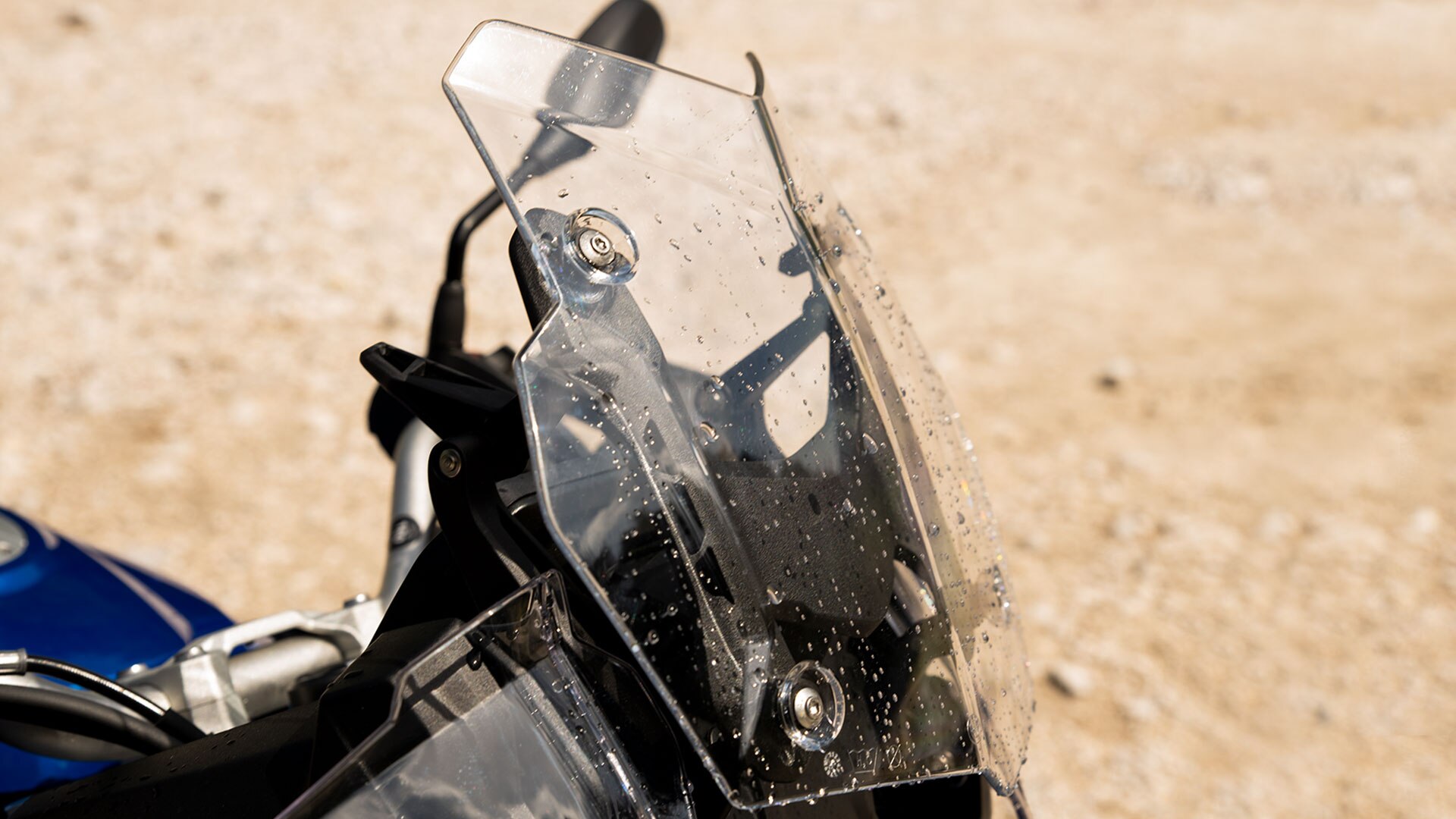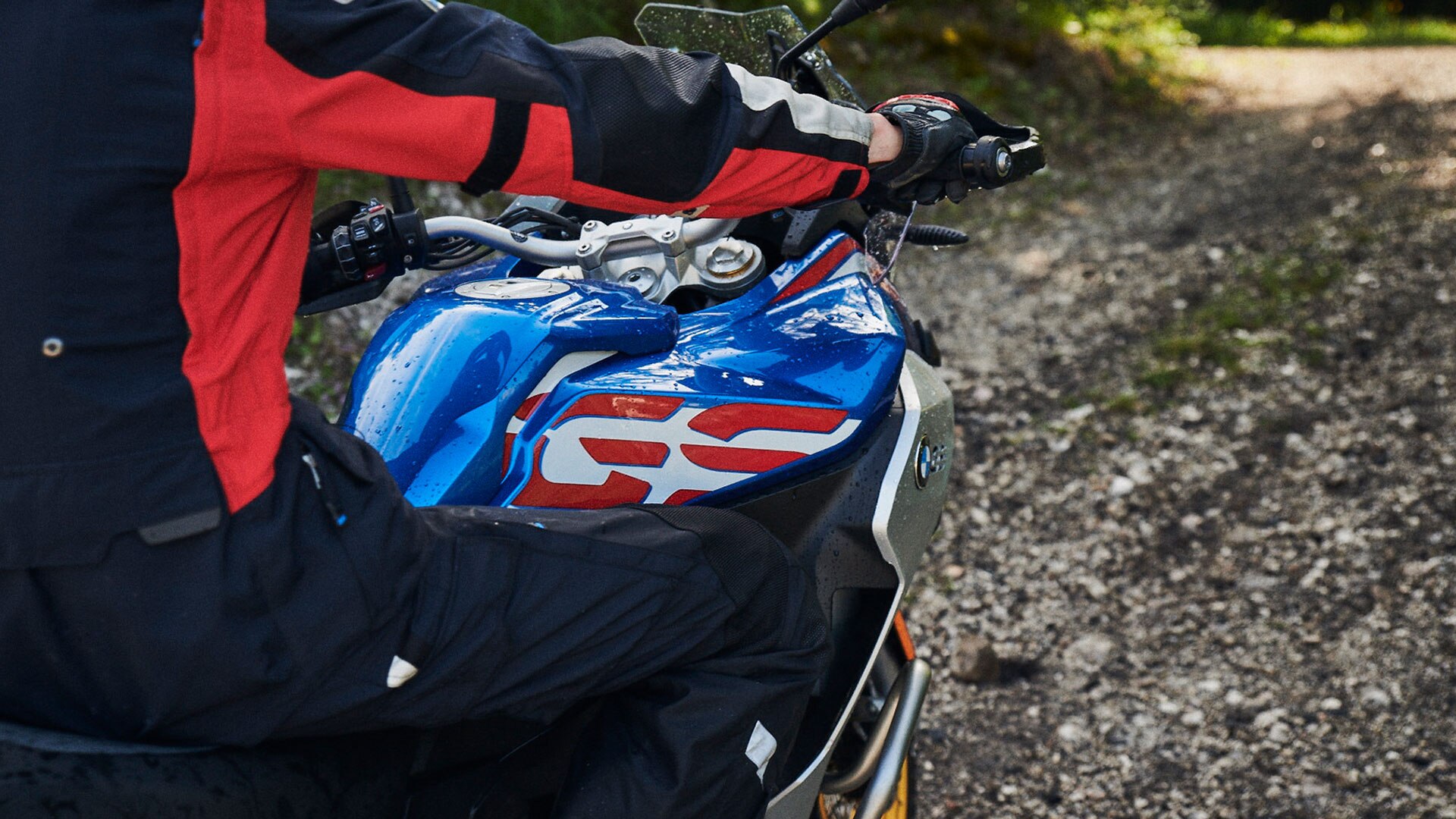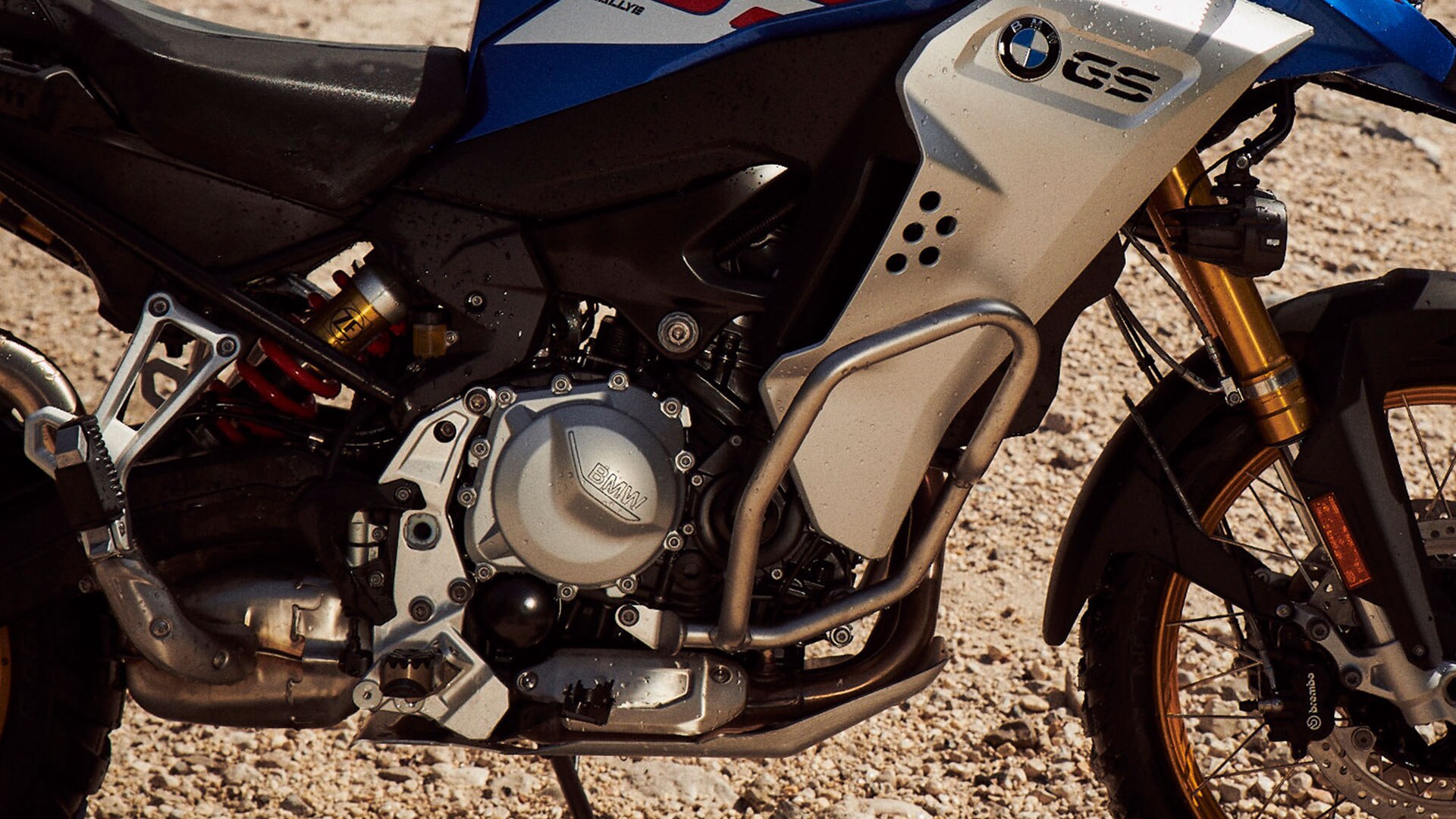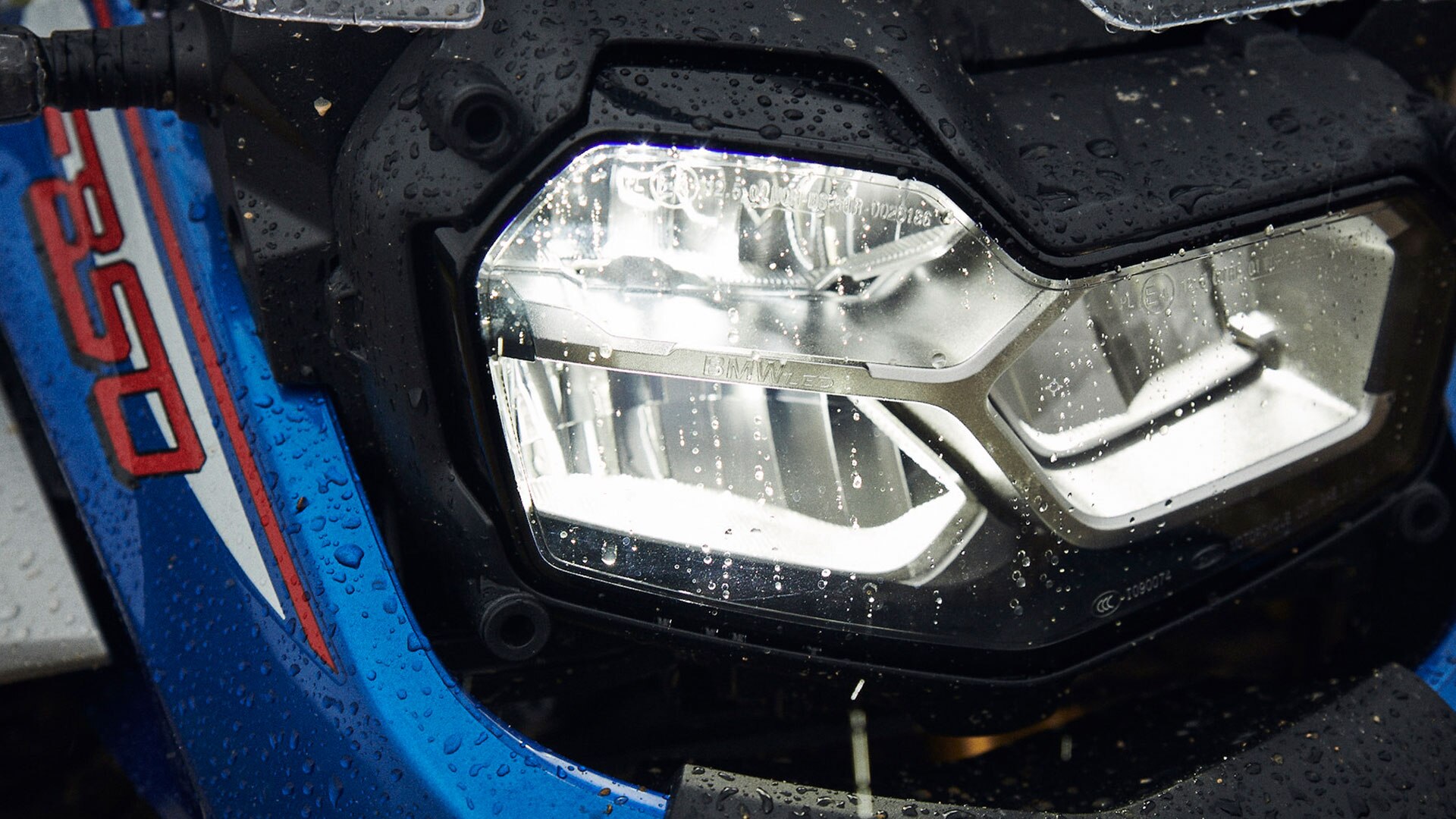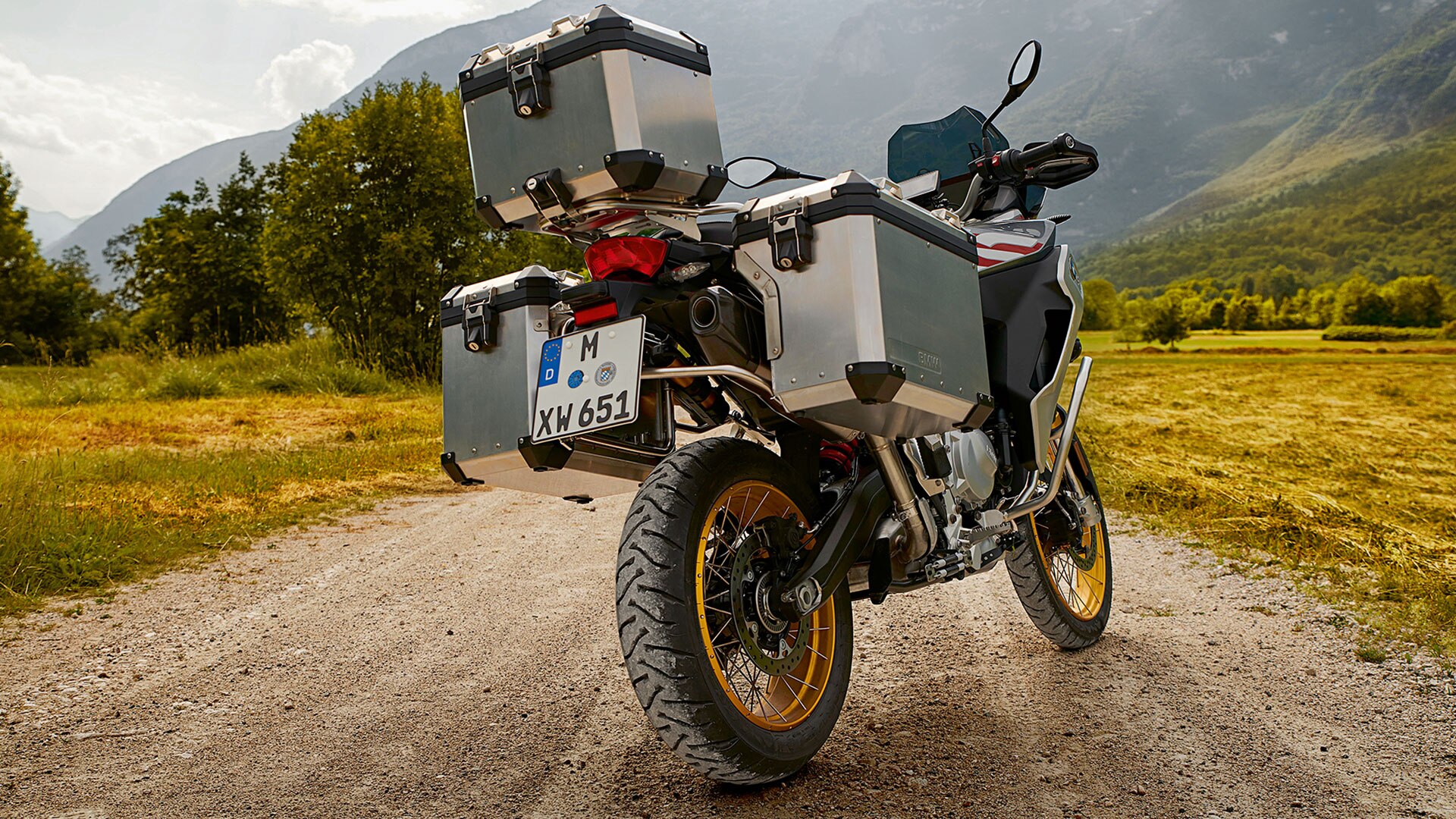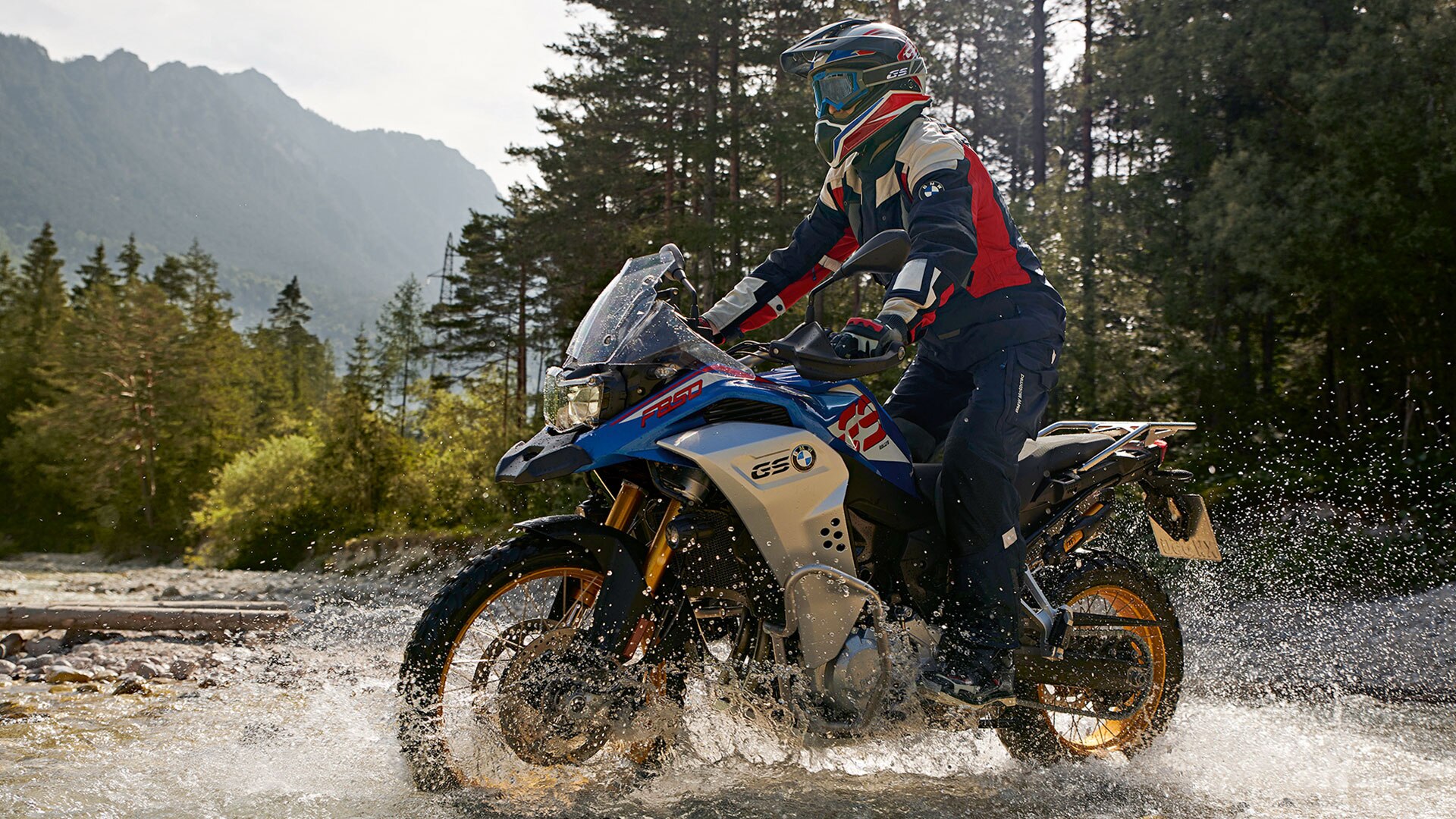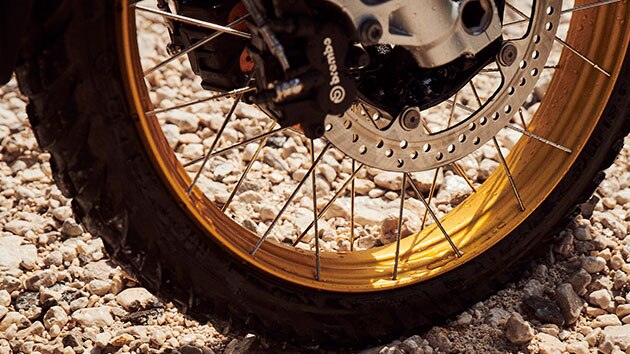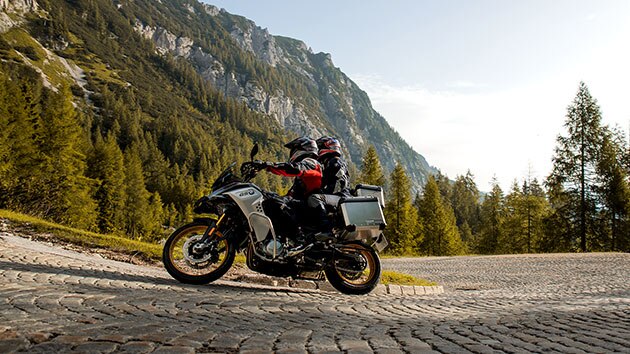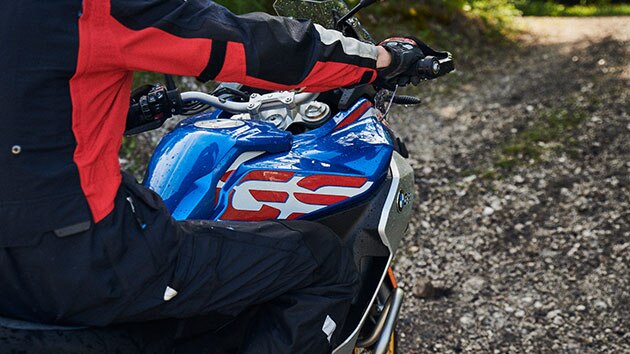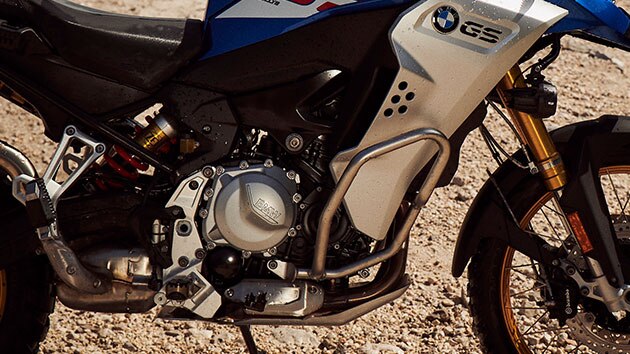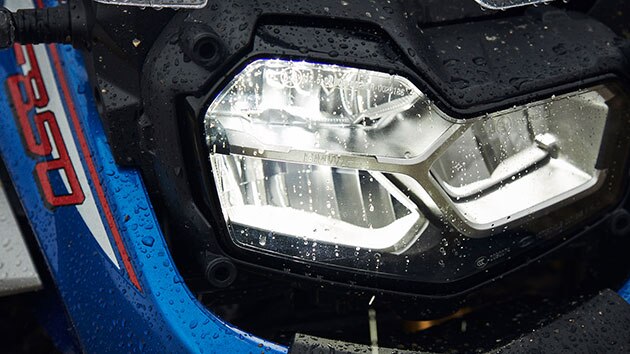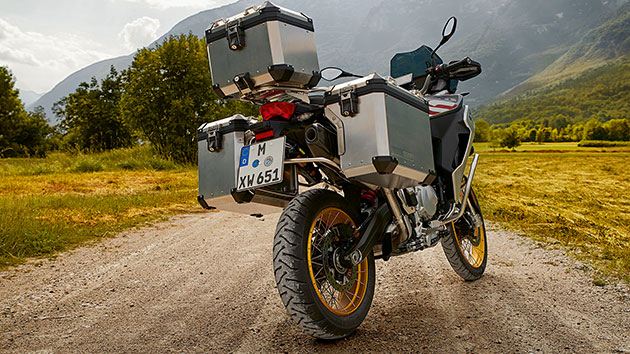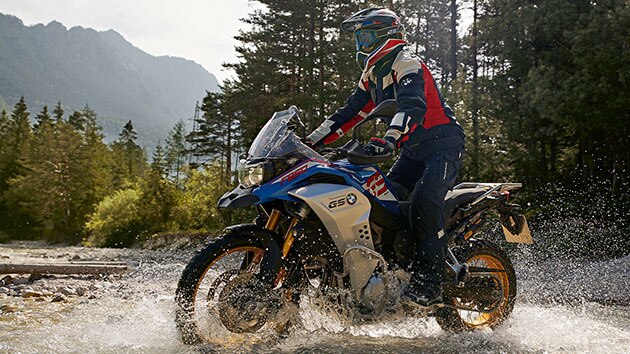 Ergonomic. Attuned to the rider.
Ergonomic. Attuned to the rider.
The ergonomic qualities of the F 850 GS Adventure invite you to take long tours around the globe. The standard seat height of 34.4" is ideal for extended travel. A wide range of different rider's seats / heights can also be equipped to adapt to the rider's size. After all, the machine should conform to you - not vice versa. Also included as standard features are the adjustable shift, clutch, and brake levers, as well as enduro footrests and high, tapered aluminum handlebars. Especially for larger riders, this is a clear advantage when it comes to off-road riding.
+ Read more
Ride on. In every sense.
Ride on. In every sense.
Wherever you long to go – the F 850 GS Adventure gets you there. Because its large 6.1 gallon tank has an enormous range of almost 350 miles. This enables distances that others can only dream of. But its outstanding comfort also makes for a bike that is simply a joy to ride. Improved wind and weather protection thanks to a larger and height-adjustable touring windscreen and an ergonomically designed comfort seat make the longest tours a dream. To make sure that nothing is missing when you're traveling across the world, the F 850 GS Adventure also offers sophisticated storage concepts as special accessories, such as a sturdy aluminum luggage system.
+ Read more
Superior. On any terrain.
Superior. On any terrain.
Anyone who ventures into uncharted territory again and again needs a bike they can trust in any situation. Whether it's deserts or mountains, river valleys or plateaus, this travel Enduro shows its superiority across the board. Even from the factory, it is predestined for long-distance and off-road use: The tubular steel space frame provides increased rigidity, ensuring greater ride stability and improved handling. The front suspension is regulated by the upside-down telescopic forks, and by the WAD suspension strut at the rear via progressive damping. The F 850 GS Adventure offers 9.1 inches of front suspension travel and 8.5 inches of rear suspension travel – for intense riding on any terrain. In addition to disengageable ABS, two standard "Rain" and "Road" ride modes are available at the touch of a button. With optional Ride Modes Pro, there are additional "Enduro", "Dynamic" and "Enduro Pro" modes. They provide additional control for diverse riding situations and their respective surfaces. Ride Modes Pro includes ABS Pro cornering ABS technology and DTC (Dynamic Traction Control). The F 850 GS Adventure also shows its superiority on off-road terrain thanks to a larger 21-inch front cross-spoked wheel with tubeless tires, enduro footrests, engine protection bars, skid plate, and practical hand protection.
+ Read more
More highlights of the F 850 GS Adventure.
Optional Dynamic ESA.

Dynamic ESA (Electronic Suspension Adjustment) automatically adjusts the damping action of the suspension strut based on the riding style and road conditions.

Optional Ride Modes Pro with "Enduro" and "Enduro Pro" modes.

With available Ride Modes Pro, the throttle and control systems of the machine can be easily adapted to different road situations. In addition to the standard "Rain" and "Road" ride modes, Ride Modes Pro provides "Enduro" and "Enduro Pro" modes, and advances ABS and ASC to ABS Pro and DTC (Dynamic Traction Control). "Enduro" mode is characterized by a more reserved throttle response. In addition, the control characteristics of the ABS Pro and the DTC are designed for enhancing off-road use while utilizing road tires. As a dedicated off-road rider, you also have the "Enduro Pro" mode, which offers optimal throttle response to go hand in hand with a regulation of ABS Pro and DTC, geared toward the operation with off-road tires. In addition, the rear wheel ABS is deactivated in this mode, allowing you to perform advanced braking maneuvers.

Optional Connectivity incl. 6.5" TFT color display.

Connectivity offers innovative functions for navigating, calling, and listening to music on your motorcycle on a 6.5-inch TFT display.

On-Board Computer Pro.

The On-Board Computer Pro provides perfect information management at a glance. Programmed for displaying the most important vehicle data quickly and easily.

Large storage space (optional accessory).

Those who go on trips around the world rarely do so travelling light. That's why the F 850 GS Adventure features a stainless steel luggage rack for the aluminum top case (optional accessory) and a stainless steel case holder for aluminum side cases. Practical accessories such as aluminum side cases and topcase in the rugged GS Adventure design, a passenger seat pocket, and a tank bag with map compartment, as well as the large space under the seat, are available and complete the range of storage options.